Meet the stockist - Colony
Hi guys!
Can you introduce yourselves and your store and tell everyone a little about how Colony came to be?
Colony has really evolved since its formation, we were originally a pop-up vintage store on Totnes High Street styled with a minimalist / contemporary aesthetic. I was running the store whilst my two boys were just starting at primary school, so my opening / working hours were pretty limited. I did though generate a following and like to think that we were demonstrating that vintage fashion could be styled to suit a modern lifestyle. The challenge was having time to replenish the vintage stock, (this would usually involve travelling distances regularly to source and quite often clean / make running repairs before products hitting the shop floor).
A year or so in I dropped the vintage, began looking at British contemporary brands with strong design-led values and started stocking labels who displayed a cracking combination of detail, quality and wear-ability.
After a couple of re-locations, we are now a small team in a great location on Totnes High Street in Devon offering emerging and established clothing and accessory brands for men and women.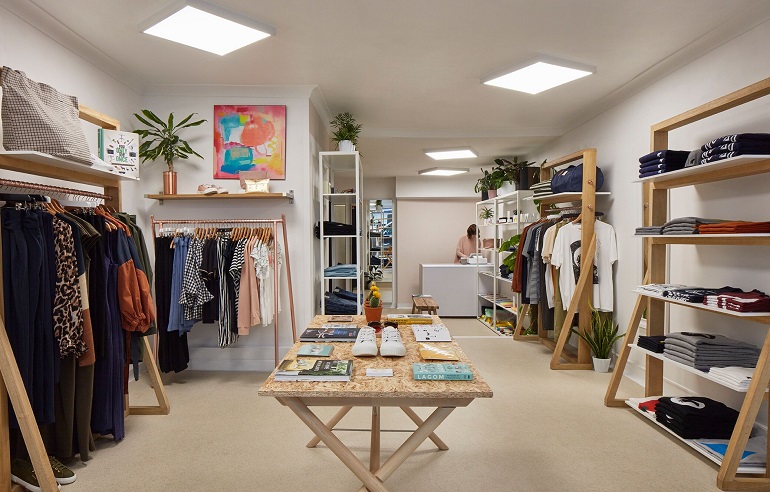 Can you give me some highlights of running your store?
My background is in media and fashion – I spent a number of brilliant years working alongside Oliver Sweeney whilst Oliver was still at the helm of his luxury menswear brand. I have a very independent mind and (possibly) have a little control freakery about me, so working for myself was always very appealing. Devon is a great place to live; extremely beautiful with unlimited options for an active, outdoor lifestyle. When my children were very young I found it quite uninspiring heading to the cities with them to get a fix of some retail therapy.
I was keen to try and create a super-modern shopping environment in Totnes offering cool, contemporary clothes for women living in Devon, that would work equally for a coastal, country or urban lifestyle. I have tried to create a relaxed, fun, laid-back retail experience, although our attention to detail and customer service is top-notch! It's completely heart-warming hearing the positive, encouraging comments from people who come in to our store.
How would you describe Colony in 3 words?
Worth a visit!
What do you look for when searching for products for the store?
First up is the environmental and ethical policy of the brand. We need to be sure that the products we are offering were created with kindness and will not have any negative impact going forward. Next up is the design and suitability for our customers and the store. We have recently been stocking much smaller labels, particularly with our new menswear offering and it is important to us to have full knowledge of an items' provenance together with the people behind the brand – this gives our customers product confidence and ensures we can give good recommendations and advice.
What are your future plans for Colony?
Since opening at our present location in March 2018, we have gained more space which will enable us to extend our offering. I am forever curious as to who and what is out there and really enjoy stumbling across or taking in recommendations of amazing brands with not such a massive presence.
Totnes in Devon is an independent town with a fantastic community – I'd like to run some evening workshops / discussions, there are so many interesting people locally, it would be great if I can provide a space for them to talk about their life experiences to a captive audience.